Boris Veldhuijzen van Zanten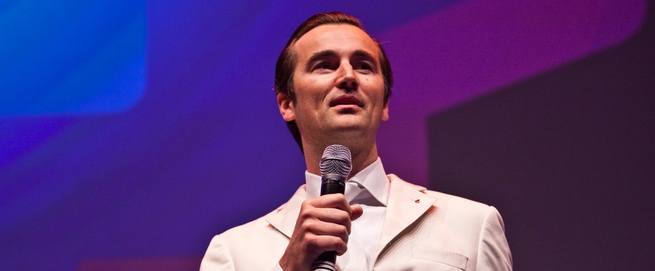 Boris Veldhuijzen van Zanten (@Boris) is succesvol serial entrepreneur and co-founder of The Next Web.
He is one of the members of the Startup Europe Leaders Club, an organisation set up by Neelie Kroes within the European Commission to stimulate a better startup climate in Europe and to create role models for startup founders. Other members are Daniel Ek and Martin Lorentzon (Spotify), Kaj Hed (Rovio), and Niklas Zennström (Skype / Atomico).
The Next Web consists of The Next Web Blog, The Next Web Conference and TNW labs. The Next Web Blog delivers an international perspective on the latest news about Internet technology and was set up in 2008. It currently ranks second on the list of most popular tech blogs and is considered one of the few blogs covering truly international tech news.
The Next Web Conference was set up in 2006 by Boris and his co-founders to promote a small startup named Fleck.com. But with 300+ attendees and a great line-up of speakers – Kevin Kelly, Kevin Rose and Michael Arrington among others – it was such a successful start that they decided to orgnize it annually. Now, with over 2000 attendees it is the largest tech conference in Europe and TNW conference is now also organised in Sao Paulo, Brasil and New York. Next to this the the developers conference Kings of Code is organised every year in Amsterdam.
In TNW Labs, TNW is launching its own startups. Companies that came out of TNW Labs are Twittercounter, SocialStatistics.com, Paydro.com, Pressdoc.com, The Next Web Magazine, TNW Academy and Inbox Pro.
In 2010 Boris became Technology Trendwatcher of the year in The Netherlands.
Boris went to the circus school when he was 15 (in 1987 was the only one in The Netherlands who could juggle 7 balls), he graduated cum laude from artschool in Enschede and he was selected for the Rijksacademie in Amsterdam. In 1997 he founded his first internet company V3 redirect services, a redirect service that was aquired by Fortune City in 1999. In 2001 he founded HubHop, a WIFI hotspot service, that was aquired by the Dutch telecom operator KPN. As part of the deal he became part of the management team at KPN, but decided to go back to entrepreneurship soon after.
Boris' background as a successful serial entrepreneur, artist and professional juggler endow him with an interesting combination of technology know-how and creativity. Drawing from his experience as an entrepreneur and internet enthusiast in general, Boris offers a lively and unique perspective on starting up companies, networking your way to fame and glory (and riches), innovation and current technology trends.
Testimonials voor Boris Veldhuijzen van Zanten
"Boris is something different! After participation and hosting various interactive marketing seminars around the world, I had the pleasure of being introduced and listening to an outmost interesting, inspiring and out-of-the-box speech presented by Mr. Boris Veldhuijzen van Zanten. The seminar topic was "Evolve and innovate! Creativity, key trends and future opportunity in interactive advertising" and Boris rounded up the seminar with this spectacular performance: "How entrepreneurship, serendipity, the image of God and interactivity all come together in one vision of the future of technology and humankind". I was amazed of the professionalism, enthusiasm and personal interaction shown by Boris . Simply brilliant and highly entertaining. Really fantastic performance and two thumbs up. A true breathtaking experience."
Børge Sandengen, Managing Director at INMA
'Boris is a man who believes in progress, innovation and a truly interactive world. The fact that he not only believes this but also works on making it a reality is very refreshing. Boris is not scared to 'walk his talk' and that makes him very convincing during his talk'
Jeroen Smit, publicist and moderator for Fusion 06

Boris interviews Prince Willem Alexander at The Next Web 2013:

Boris at the Dutch Television program De Wereld Draait door, 2010:



Boris at the Accenture Innovation Awards, 2011