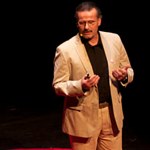 Op 2 april 2012 vindt de volgende TEDx Maastricht plaats: een TED conferentie geheel gewijd aan gezondheidszorg. Lucien Engelen was spreker op en is organisator van deze conferentie.
Lucien is de eerste Nederlandse Health 2.0 ambassadeur. Hij laat zien hoe nieuwe technologie een basis vormt voor verbetering van de gezondheidszorg en hoe, misschien wel belangrijker, er een omslag in de manier van denken nodig is: de patiënt staat niet meer centraal, maar denkt en beslist mee over de zorg.
Bij het Academisch Ziekenhuis Radboud in Nijmegen organiseert Lucien projecten omtrent Participatory Healthcare: gezondheidszorg waarbij de patiënt meepraat en meebeslist over zijn of haar zorg. Vorig jaar sprak hij zelf op TEDx Maastricht en de video daarvan is nu beschikbaar op TED.com. Bekijk hem hier:
"We've all got navigation controls in our car. We maybe even [have them] in our cellphones. We know perfectly where all the ATMs are. … But where would be the nearest AED to help a patient? We asked around and nobody knew."
"[Crowdsourcing] is peer pressure used to help patients. This could be used for obesity; It could be used to stop smoking.
"