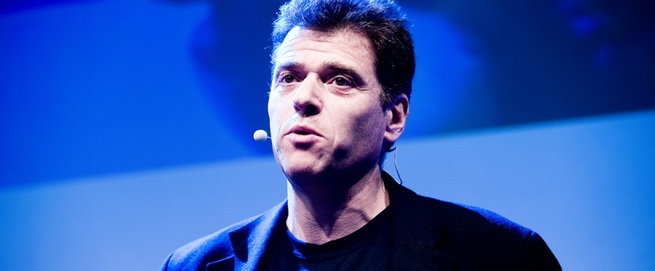 The Cult of the Amateur is Andrew Keen een van de bekendste web critici en heeft hij menig discussie gevoerd, waaronder de bekende discussie met David Weinberger (Filosoof en schrijver van The Cluetrain Manifesto en Everything is Miscellanuous) in The WallStreet Journal.
Zijn nieuwste boek komt in mei 2012 uit en heet Digital Vertigo.
Als technologie enthousiasteling heb ik de neiging om elke nieuwe technologische ontwikkeling met liefde te omarmen. Technologie is goed, de vooruitgang helpt ons en Web 3.0 zorgt er voor dat we ons meer verbonden voelen. Maar soms is het goed om weer even na te denken over het nut en de gevolgen van technologische ontwikkelingen. En Andrew Keen is niet te beroerd om daar bij te helpen.
Weet Mark Zuckerberg wel wat vrienden zijn? Waarom zijn we eigenlijk zo verslaafd aan Twitter? En waarom heeft iedereen zo de neiging om de meest intieme details te delen op Facebook, Hyves en Google+?
Verwijzend naar de beroemde Hitchcock film beargumenteert Keen in zijn laatste boek Digital Vertigo (Vertigo is de latijnse benaming voor draaiduizeligheid) dat de belofte van social media ons aangetrokken doet voelen tot iets dat eigenlijk te mooi is om waar te zijn: een transparante maatschappij waarin onze authentieke identiteit op internet tot volle wasdom kan komen. Maar wellicht is het web niet gelijk aan Utopia, en brengt het juist onze individuele vrijheid en privacy in gevaar? Het boek Digitial Vertigo laat je nadenken over de social media waar we door de jaren heen in verstrikt geraakt zijn.
In april 2012 is Andrew Keen al in Nederland. Wil je de eerste zijn die Andrew Keen uitnodigt om te spreken over zijn nieuwste boek? Neem dan snel contact op.
De eerste recensies:
"Andrew Keen has found the off switch for Silicon Valley's reality distortion field. With a cold eye and a cutting wit, he reveals the grandiose claims of our new digital plutocrats to be little more than self-serving cant. Digital Vertigo provides a timely and welcome reminder that having substance is more important than being transparent."
– Nicholas Carr, author of The Shallows: What the Internet Is Doing to Our Brains

"Digital Vertigo provides an articulate, measured, contrarian voice against a sea of hype about social media.  As an avowed technology optimist, I'm grateful for Keen who makes me stop and think before committing myself fully to the social revolution."
— Larry Downes, author of the e-commerce bestseller Unleashing the Killer App: Digital Strategies for Market Dominance
"Andrew Keen is that rarest of authors: one has taken the time to understand the benefits of technological innovation before warning us of its risks. In Digital Vertigo Keen finds himself in a dizzying world where it is not just possible to share every detail of our professional and private lives, but actually expected. While a growing number of his friends — including those in the upper echelons of Silicon Valley society — preach the gospel of total transparency and cyber-oversharing, he refuses to blindly click the "accept" button. A vital and timely book that's terrifying, fascinating, persuasive and reassuring all at the same time"
— Paul Carr, author of Bringing Nothing to the Party and The Upgrade