Christina Caljé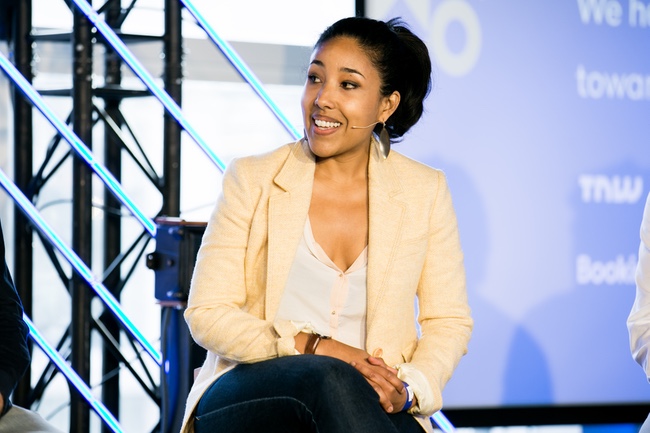 Born and raised in New York City, Christina Caljé is a Goldman Sachs Executive Director turned startup founder and investor. A seasoned entrepreneur in the finance and technology sectors, Christina has launched and scaled businesses across New York, London and Amsterdam.
Christina has won numerous accolades that include distinctions from EUtop50 as 'Top Woman Entrepreneur', from Inspiring Fifty as one of the Netherland's most inspiring women in tech and from Women In Tech as a 'Global Leader'.
Her expertise is sought by corporate, government and academic institutions around themes of entrepreneurship, implications of AI-based systems and the economics of 'giving back'.
After the acquisition of her video marketing technology company (Autheos) in 2021, Christina expanded her focus to the investment space, partnering with industry and governmental organizations to address the funding gap of underrepresented founders in Europe. With this purpose in mind, Christina serves as advisor / board member to venture capital funds and government entities, alike, and has co-founded the Impact Investor Group to connect knowledge and funding to initiatives that cultivate opportunities for positive societal impact.
Additionally, Christina has directly mentored 40+ startups, invests globally as a business angel and currently sits on the board of multiple accelerator programs. In recognition of the impact of her efforts to equalise capital distribution and access in the European startup ecosystem, Christina won the distinguished Techleap 'Giving Back' award in 2022, and the Women In Technology 'Global Leadership Award' (Netherlands) in 2022.
Some of Christina's presentations:

When Being Underrepresented is an Advantage
Drawing from Christina's personal experiences as a female founder of color, an inspirational talk on how to leverage one's unique skill sets to design their life and business as they have always desired. Topics include lifestyle design, the importance of self-care, quieting the noise in your life, finding your 'why' and staying true to yourself.

Successful Corporate / startup partnerships
Drawing from her personal experiences as a founder having launched and scaled B2C and B2B companies in Europe and United States, Christina breaks down her best practices and pitfalls to avoid when launching collaborations and / or products with startups. She talks through her real-world examples successfully partnering with companies such as L'oreal, Google, Microsoft, Philips and Central Beheer Achmea.

F*ck Modesty: Succeeding (In A Male Dominated Business Environment)
Christina Caljé is a Goldman Sachs Executive turned startup CEO and investor. Having spent her 15+ year career in male dominated industries finance and technology, Christina attributes her professional achievements to a few key characteristics and techniques that she is eager to share with the audience. During this intimate conversation detailing her journey from childhood in the East Village of NYC through to present day, Christina discusses personal anecdotes and lessons learned that have empowered her to reject insecurities, challenge preconceptions and enjoy career successes.

The creator economy and the metaverse
The creator economy is set to flourish in the metaverse era, providing deeper relationships and business opportunities for creators with their followers. As an angel investor and advisor and previously the founder and CEO of video marketing tech platform, Autheos (acquired 2021), Christina breaks down the creator opportunity, how CMOs can tap into this opportunity and ethical considerations that need to be on their radar as they explore this unique medium.

Previously she spoke at recognised tech conferences, such as:
-The Next Web – Creating a resonant digital experience for consumers
-The Next Women Summit – Challenges of a tech entrepreneur
-Tech innovations roundtable with Netherlands Government (organized by Google)
-Rockstart AI Summit – Marketing innovation through AI
-Women in AI – Artificial Intelligence in Ecommerce
-L'oreal – Being a female leader of an AI tech company
-Google Women's Group – Female entrepreneurship
-Facebook Developer Circle – Authenticity in leadership
-Founder's Summit – Ups and downs of entrepreneurship
-Google Cloud Summit – Innovation and digital transformation