Jelmer Evers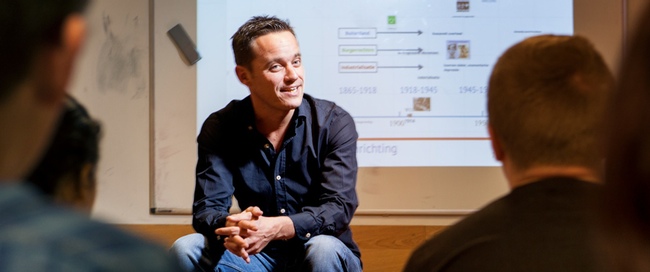 Jelmer Evers is a teacher, writer, learning expert and innovator. He is an active transformer of the Dutch educational system. With a solid basis in teaching, still teaching two days a week at UniC in Utrecht the Netherlands, he is moving away from traditional teaching, introducing concepts such as Challenge based learning and Connected learning, personal learning environments and networks, MOOCs, Flipped Classroom, game based learning and gamification. Using a variety of web 2.0 tools he's creating blended learning environments in which learning can take place anywhere and anytime.
In 2015 and 2016 Jelmer was nominated for the Global Teacher Prize.
Jelmer studied History of International Relations at Utrecht University. Afterwards he attended the Foreign Relations Course (Leergang Buitenlandse Betrekkingen) at Clingendael Institute on a scholarship. He decided that he wanted to take up teaching and enrolled in the Bi-Lingual and International Teacher Training Programme (BITEP) in which he also taught in a secondary school in Mamelodi Township, Pretoria.
Besides teaching he is also a blogger, writer, designer and consultant. He is on the design team of a new teacher training institute and new educational ecosystem: The Dutch School. Jelmer has been featured regularly in national press and on television.
Evers has been nominated teacher of the year 2012. Dutch magazine Vrij Nederland has nominated him one of the 23 Dutch  "New Radicals" (Nieuwe Radicalen) for his innovative teaching practice and his stance and activities on educational reform. He published two influential books: "Het Alternatief" (The Alternative) featuring articles from renowned scholars like Andy Hargreaves and Howard Gardner. And the more international orientated "Flip the System".
Jelmer speaks about Education, Learning 3.0, social media, e-learning, MOOCs, Gamification, Games, Flipped Classroom, Personal Branding, and Personal Learning Environments.