Mark van der Heijden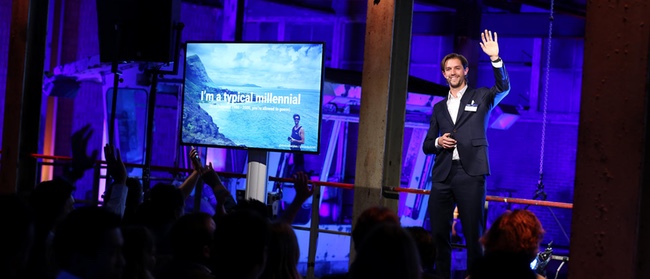 Mark van der Heijden is a creative entrepreneur from Amsterdam. After 6 years of working as a creative in advertisement he cancelled his job and house. From January 2014 until January 2016 he travelled the world as 'The Backpacker Intern'. Helping out agencies, brands and charities. He didn't want to get paid, he just wanted to trade: a day of my work for food and a place to sleep. His mission was to gain experience on 7 continents and hoped to inspire people with his story along the way and on the web.
From intern to media hype
Mark gained a lot of international media attention, such as Adweek, Campaign and MTV. In just one week he received more than 750 job-offers from all over the world. Now, two years later, he has been on 7 continents, in 27 countries and worked at 32 companies like Amnesty International Thailand, DDB Vietnam, TBWA\Chiat\Day Los Angeles, JWT Buenos Aires, Red Bull Austria and Ogilvy Cape Town. He worked with the legendary hitmaker Nile Rodgers in New York, ex-drugtraffickers in the favelas of Rio de Janeiro, helped out a dog shelter in San Francisco, served food to homeless people at a Soup Kitchen in Malaysia and helped out One Ocean Expeditions during a polar expedition to the coldest continent in the world; Antarctica.
Experienced speaker
Van der Heijden gave inspiring keynotes about his adventures at TEDx, SXSW, Cannes Lions Festival, the headquarters of the United Nations and more than 50 other events worldwide. As a public speaker, he wants to help and inspire people to create an awesome life, and overcome barriers. Therefor his personal mantra is: 'Think less, do more'.
The Rise of the Digital Nomad
The nomadic economy is transforming the world. There is a huge paradigm shift in how people want to work and travel nowadays. With the tools available today, work is no longer a place. It can happen from any place, anytime and anywhere. Since the beta launch of Wanderbrief in February 2016, we have seen our community grow exponentially. This growth is fuelled by multiple global trends; the booming freelance economy, a generation of talent with itchy feet, a more connected world through technology than ever, and above all, the nomadic state of mind becoming more mainstream. During this talk I'll share insights, learnings, ups & downs and personal stories from our growing global community of +6500 digital nomads from 87 countries and companies like Adobe, DDB, Heineken, Porsche and Vodafone. You will embark on a journey and learn how to work from anywhere in the world. Your destination? To become the ultimate digital nomad.
Wanderbrief
With all the learnings, experience and network, Mark currently is building on the company 'Wanderbrief': a global community that helps people to travel the world while working remotely as a 'Digital Nomad'. They connect freelancers, entrepreneurs and 'remote workers' with 100% location-independent jobs and an international community of over 8000 travelling professionals from 100 countries. The credo of Mark and Wanderbrief are summed up well in this quote: "The biggest adventure you can take is to live the life of your dreams." – Oprah
Mark talked with passion! He talked both to and with the audience, which was very much appreciated by the students.What the students said: "His story is definitely inspiring and motivating! I immediately followed him on Instagram and want to get more familiar with this company and his purpose".
— Petra de Swart, Coordinator International projects Fontys International Business School.
"For those who think to be successful you have to be bull headed, arrogant, greedy and pushy… Mark is none of these. He is pleasant, helpful, and mindful of needs of others. Mark makes others feel good & our entrepreneurs enjoyed sharing mutual experiences with him during the after drinks Netwerk Ondernemen Mentor Talks. Mark is able to communicate his passion in an engaging and enthusiastic manner. His Talk was inspirational & humorous and for someone who has a lot of experience at such a young age he shared incredibly humble his life wisdom & his vision on digital nomads."
– Sabine Eevers (Manager at Netwerk Ondernemen vzw)
Mark's speech was definitely one of the highlights of this year's HEUREKA Conference. He painted a vivid picture of the many possibilities that digitization has to offer: Work is no longer a place. The new Silicon Valley can be Silicon Bali, Silicon Delhi, Silicon Anywhere – because nowadays, work can basically happen from every place on earth. We were inspired by Mark and the example he provides, not only by leading such an remarkable lifestyle but also by founding Wanderbrief and thereby enabling others to do the same.
– HEUREKA
Mark van der Heijden at TEDxAUCollege