David Lemereis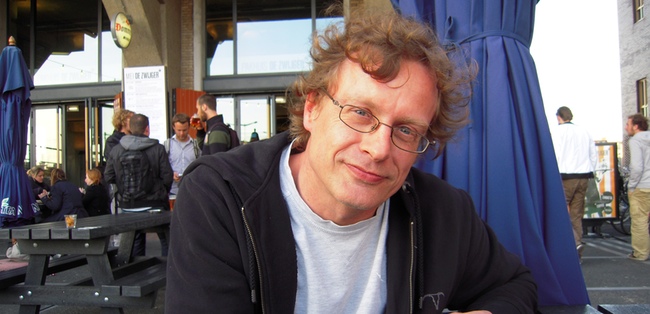 David (1962) is a freelance journalist, internet TV personality and a speaker with an inherent passion for tech and science and a knack for storytelling.
When he's not writing about the latest scientific and technological developments, he's shining his unique, somewhat cynical but infotaining perspective on gadgets ranging from electric bikes, iPad apps to toothbrushes with wireless displays in his weekly video column 'The Unboxingparty' on bright.nl. However, David still isn't convinced the world really needs such a thing as a toothbrush with a wireless display.
On a regular basis David enthralls audience with a live unboxingparty which some call the Top Gear of gadget shows. But what David does best is to fascinate audiences with his frontline knowledge the latest scientific and technological developments that will shape out lives like never seen before. According to David the future is not tomorrow; the future is now. Science is advancing at such pace that it's no longer just about discovery but ever increasingly about scientific mastery. We are molding the world around us to our wishes at a pace few of us can imagine.
Just take a look at gadgets. According to David the term gadget as an ingenious wanna-have electronic device is about to become obsolete. Soon everything in our lives will have some sort of artificial intelligence embedded: your car, the doorbell, your reading glasses, your fridge, your razor and mirror, your ski goggles, your clothes, the walls, the ceiling, the windows and the door to your office or home. And that's only the beginning
Scientist have started to transform humans to become living gadgets. Electronics and Artificial Intelligence embedded in our bodies will soon supplement human intelligence. The blind are seeing again, the deaf are hearing once more and paraplegic are walking with the help of science and technology. The Cyborgs, Androids and replicator machines of the science fiction movies of yesteryear are becoming reality as we speak.
We will no longer reach for anti-depressants to fight the blues but press a button to instantly change our moods. You'll wear electronic contacts with build-in augmented reality displays and print your smartphone at home on your desktop 3D printer. At the hospital the surgeon will print a new heart when your old one is about to fail. All this is happening in the labs today. Experimental beating hearts have been printed in labs and no, you can not yet order one today. But you will tomorrow… And that's just the start.
David will enlighten his audience, whether it is a workshop on a specific technology such as 3D printing, augmented reality, nano technology or the future of television or his rapid paced documentary style lecture 'The Future is now'. He brings audiences quickly up to date in a broad range of stunning scientific and technological developments that will 'blow their minds'.
David was raised bilingual and writes and speaks Dutch and English fluently but don't hire him for his German language skills. David entertained audiences with his live unboxingparty gadget show during the Bright Nights, at the yearly iMMovator Mediapark jaarcongres and on several occasions at the Career Event in the Jaarbeurs Utrecht. He's spoken about the emerging 3D printing technology on invitation by Dijk & Van Emmerik, a consultant firm specializing in Human Resource management, De hoge School van Amsterdam, the Night of the Nerds and for the CMBO, a knowledge institute for media companies. He lectured about popularizing science to students of the University of Amsterdam. Several times David shared his The Future is Now lecture with managers in training of the Koninklijke BAM groep, one of Netherlands largest construction companies. He also enlightened engineers of consulting and engineering firm Tebodin and employees of the Ceasar Groep, an IT company about how the future is shaped today.
Throughout the years David wrote articles for magazines and newspapers such as Bright, P/f, Glamsterdam, WinQ, Living Media, Sprout, MacWorld, Net Magazine, Publish, Power Unlimited, Wired, Mitsubishi Magazine, Volkskrant, Readers Digest and more. He also wrote for companies such as Friesland Foods, Pioneer, Vodafone, Sogeo, Jumbo, UPC and KPN.
At the end of 2007 the first of eight episodes of the Dutch television program 'In de ban van het ding' was aired. David was one of the three tv hosts. David travelled the world in search of the latest scientific and technological developments. At regular intervals David is asked for his expertise on television and radio shows such as TROS Radar, RTL Editie NL, LLINK Atlas, BNN Today, BNR Nieuwsradio and more.
However, David is most known on the internet as Mister Unboxingparty. In his weekly internet-TV video review column David tackles the latest technological innovations. The Bright Unboxingparty is raw, in your face, unscripted, out on the street or straight out of the living room with a touch of cynical humor. What you see is what you get and that includes David. Over the years David made close to 200 Unboxingparty video's.
David Lemereis at PETS international, Madrid, January 2015