Dieuwertje Damen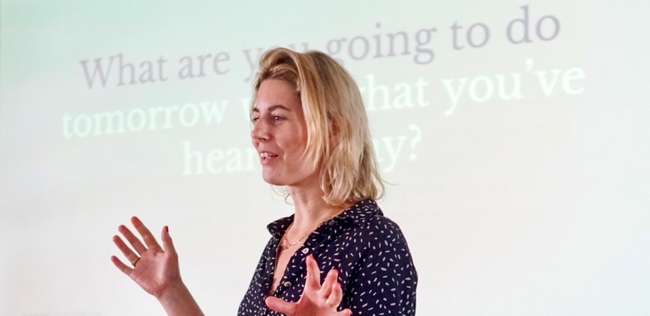 Dieuwertje Damen is founder and managing director of Rainbow Collection. She gets up in the morning to help ambitious organizations become the best in and for the world.
As an impact strategy expert and coach, she believes that sustainability is more than just corporate social responsibility. It is a powerful way of business innovation for a new economic model. Dieuwertje stands for system change, her favorite sustainability projects combine practical strategic development with employee involvement and training. This forms the basis for lasting change.
This vision is proving to be attractive to a wide range of companies. She has worked on the sustainability goals at Tele2, Ahold Delhaize, Bol.com, Dille & Kamille, Univé, Dela, Pathé, HEMA and Heineken, among others. These organizations particularly appreciate Dieuwertje's strength to make sustainability and impact concrete, practical and fun.
As a speaker, Dieuwertje gives the audience practical tools on how you can get started with sustainability within your organization today. She knows how to convert large and abstract themes such as a circular supply chain or living income into practical programs and actions that you and your organization can use immediately.
Her specialties are: sustainability strategy- and coaching, circularity, Corporate Responsibility, sustainability, innovation, impact branding and social entrepreneurship.