Ellen ter Gast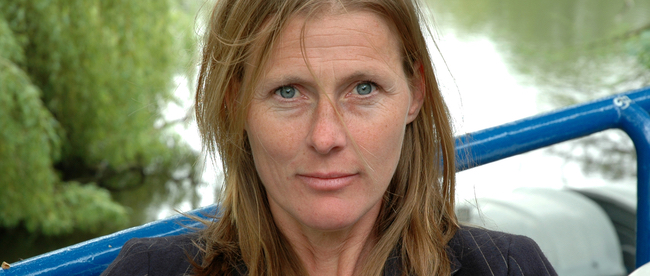 Ellen ter Gast PhD is a medical biologist and philosopher with unique work experience. She has given lectures on ethics and philosophy of science at several Universities, was a program developer of art & science course at an interdisciplinary art academy and worked as an ethics and integrity advisor at a major Dutch bank.
Her secret weapon is beyond doubt her multidisciplinary background. For more than 15 years, she has been giving public talks on various topics at the cross roads between technology, society and the arts. Recently, her book De Dappere Kijker, was published. In this book she argues that if we want to improve our moral compass we can learn more from watching TV series than reading philosophy books.
Ellen is a passionate speaker with in depth knowledge and expertise. In her talks, she always refers to the latest developments in science and technology. In addition, visual art, film and literature are important sources of input. Ellen effortlessly and with humour combines a business look with a disarming style. This makes her the ideal speaker for organizations that want something more than a man in a suit.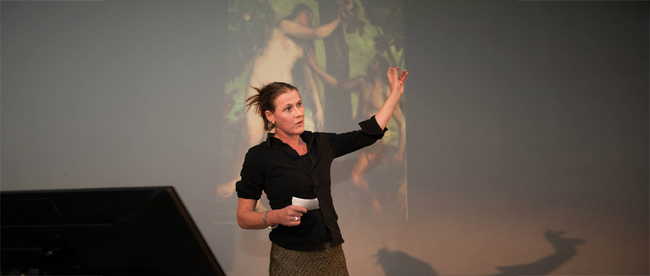 Some of Ellen's most recent lectures:
Moral Leadership
The challenges of the 21st century require a new type of leadership: moral leadership. A combination of moral awareness, the skills to asses moral issues, and the courage to act and do the right thing. This implies much more than words in a code of conduct or a mission statement full of good intentions. It is about action. In this lecture, Ellen gives examples of good and bad conduct in organizations and show how insights from practical philosophy can be put into practice, and help employees to do what is right.
Robot love
Science fiction scenarios play an important role in debates about robot technology. This is not surprising. In Hollywood, they understand that humans are fascinated by the fading boundaries between man and machine. On the silver screen the grand narratives about human-machine technology come to life. What do these stories reveal about our deepest fantasies? Are robot stories not always about ourselves, us human beings? Why do men fantasize about female robots? What does that this tell us about love? Will robots ever fall in love with us?
Better than God?
Whether we talk about cloning, the gene editing technology CRISPR-cas, deep brain stimulation, or genetic screening, in all discussions about the ethical implications of biotechnology
the question if we are allowed to 'play God' always pops up. Are we crossing moral boundaries when crossing scientific boundaries? In her search for answers to these questions, Ellen critically examines frequently used notions such as Perfection, Enhancement, Normal, Free Will and God. What do we mean when we talk about The Blueprint Of Life? We are not machines, are we?
Women@work, women as objects of design
This interactive lecture takes off with the question how women design themselves. Or more specific, how do women with ambition, women who want to make career, design themselves. What do they look like? How do they behave? Who are their sources of inspiration?
In her talk, Ellen discusses a number of strong female characters that we know from popular NETFLIX series. These "super women" are having a hard time. They struggle with combining the different roles that are attributed to women. Those women have to possess an impressive set of (often very contradictory) skills. How do they manage in today's work environment? The lecture is not only intended for women. Specifically men are the target group.
Just like in the movies, the science & fiction of organ transplantation In this lecture, Ellen uses examples from science fiction, true stories from the Daily mail and even punk music to illustrate how organ transplantation has been feeding our imagination for more than a century and makes us question the relationship between body and mind. Conversely, Ellen shows how fiction influences our perception of organ transplantation. What lessons can medical specialists learn from this?