Emily Jacometti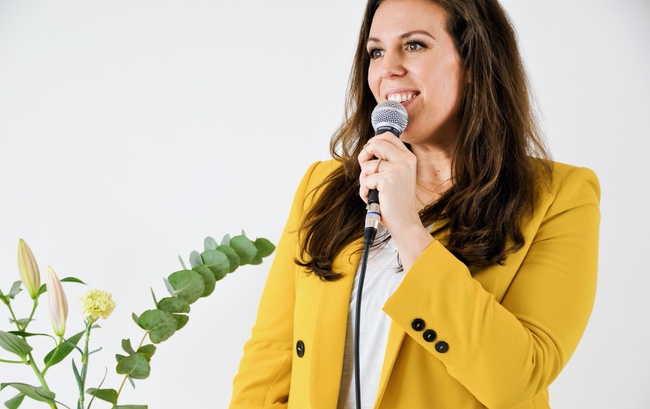 Emily Jacometti is an entrepreneur focusing on gaming for good. She is the founder of four companies in applied gaming, gamification and storytelling. Her best known company is Flavor, which produces gamification and storytelling software. With her new companies and projects, Emily is focusing more and more on social impact, for example with
Hackshield, an online game that teaches children how to arm themselves against cybercrime. Hackshield won the Computable Award for IT project of the year in 2019.
Since June 2021, Emily is on of the directors of the Dutch Game Association.
As a 24-year-old, just graduated and without any experience, Emily started Flavor above a car garage in Amsterdam. In ten years, the start-up grew into a multinational with more than 100 people. The company was widely recognized in the media and awarded national and international prizes. Until the whole thing collapsed and she had to start over again..
Emily has now become the CO-CEO of several companies, including Hackshield and Quinn. She appears on panels and is often asked as keynote speaker, talking about her experience as a female entrepreneur in the innovative sector of gamification. She is very open about her experiences and speaks frankly about what it is like to fail and recover. Furthermore, she speaks about her new journey: What does it take to build a company based on purpose, generating social impact through innovation and gamification?
Emily speaks about entrepreneurship, gamification, hero centered design, digital, innovation, technology trends, disruption, gender equality and diversity, purpose and social impact. Some examples of her keynotes:

Entrepreneurship
Jacometti takes the attendees along on her journey as a (Female) Founder in the IT industry. In her story she talks about the messy start-up in a garage and the unexpected growth of her company. She speaks frankly about the difficult road to success, failure and the biggest obstacles she and her team encountered. She also talks about how her successful company collapsed at the top of its success and how this led to a reconstruction towards a company focusing on impact and purpose.

Gender equality and diversity
Technology is everywhere. And, whether the industry realises it or not, IT has a major responsibility in shaping the future. Emily talks about the digital revolution and how digital technology should be accessible to everyone. From both the perspective of organizations and the perspective of the end user: what can organizations do to ensure an inclusive culture? And how do you set up a design process in such a way that the end product is accessible to everyone? In addition, she touches on her own experience with (the lack of) diversity and the role of bias in innovation. She does this in a funny but confrontational manner, giving practical tips on how to ensure diversity. A practical lecture that is relevant for every organization, because multiple perspectives ensure inclusion, a better company, diversity and, not unimportant, better products.

Gamification and the Hero Centered Design method
Jacometti talks about how Gamification works, how it plays a role in all decisions that we make every day and how we are consciously and unconsciously influenced. In recent years, Emily and her company have developed the Hero Centered Design method. This is a method that forces people to think from the perspective of the end user. By using the age-old knowledge about people as storytellers, game players, puzzlers and problem solvers, she provides tools for successfully completing complex processes. Emily has gained considerable experience in recent years and she uses many examples of the successful application of the HCD method in change- and innovation processes, in gamification and in digital learning environments.