Ernst-Jan Pfauth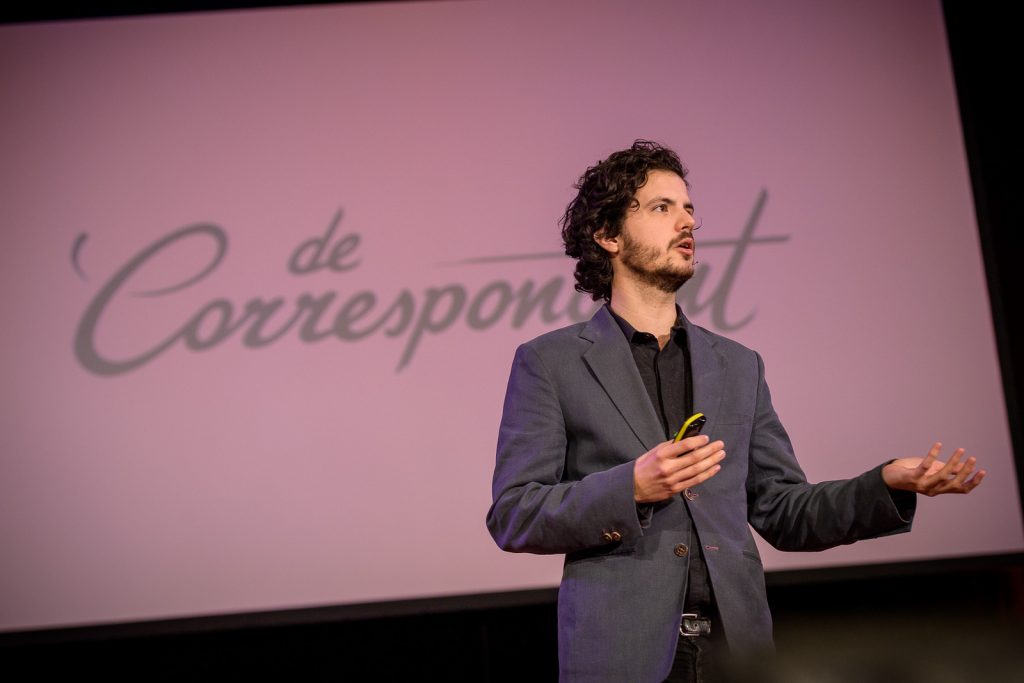 Ernst-Jan Pfauth (1986) is co-founder and publisher of De Correspondent, a Dutch journalism platform with 48,000 subscribers – who pay 60 euros per year – and a full-time staff of 45. It launched in 2013, after raising 1.7 million dollars with a world-record breaking crowdfunding campaign.
De Correspondent has been praised by media such as The Guardian, Fortune and Die Zeit for how it enables readers to share their knowledge with journalists.
In 2016, the American magazine Forbes featured Ernst-Jan in their 30 under 30 list for Europe, and the Council for the United States and Italy (founded by David Rockefeller) invited him for their prestigious Young Leaders Conference.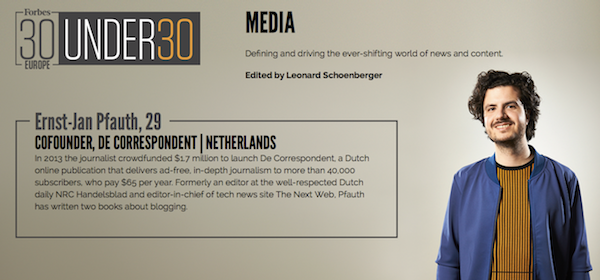 Ernst-Jan is 'obsessed' by innovation media. He is the former Head of Digital at NRC Handelsblad, as well as an acclaimed technology author and columnist who has written two books on blogging. In 2008 and 2009, he served as editor in chief of The Next Web Blog, which is now among the ten most-visited blogs of the world.
Speaking
Ernst-Jan gave talks at South by Southwest (SxSW), The Next Web Conference, The International Journalism Festival and the World Publishers Forum and guest lectures at Harvard's journalism institute and New York University. Companies such as Vodafone, IDEO, Sanoma, Deloitte and Adobeinvited him for workshops. He's also a seasoned live interviewer, and spoke with VP's of amongst others Google, Wipro, Accenture, TNT and Endemol.
Arts & Culture
Another love of Ernst-Jan is arts and literature. He often hosts literary talkshows, and welcomed writers like Donna Tartt, Jonathan Safran Foer, Ben Lerner, Chad Harbach, and David Sedaris as guests. He serves in the board of advisors of the Frans Hals Museum and the young patrons of The Dutch National Opera & Ballet, and hosted talkshows for these organizations as well – interviewing Dutch legends like artist Joep van Lieshout and choreographer Hans van Manen.
Ernst-Jan is one of those young guns, eager to learn and not afraid to see it his way and act on it. Old journalistic farts should listen to him before they turn obsolete. He is living the future.
Tim Overdiek, Deputy Editor-in-Chief at NOS News (Dutch national public broadcasting)