Gina Doekhie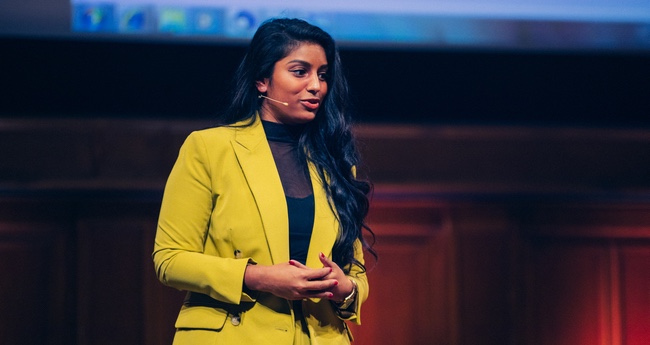 Gina is cybercrime specialist and digital detective. Before this, she was a digital forensic detective at Fox-IT for seven years: she tracked down cyber criminals and worked on digital fraud cases. She recently joined the Cybercrime Team of the Dutch Police, where she investigates complex cybercrime cases, such as CEO fraud and ransomware extortion. She also works as a judicial expert, which means that she gives advice in court about the evidential value of digital evidence.
Gina graduated with a double master's degree from the University of Amsterdam. After her bachelor's degree in Artificial Intelligence, she specialized during her master's in Forensic Intelligence and started a second master: Forensic Science.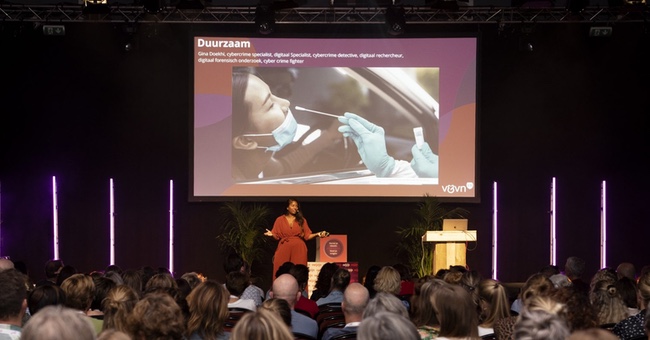 In 2020, Gina was declared young talent by Dutch Newspaper Het Financiële Dagblad. In 2018, 2019 and 2020 she was named in the Opzij Top 100 most influential women in the Top 10 Tech category. The year before, she was named in "Inspiring Fifty: The Netherlands 2017", the 50 most inspiring women in technology. Gina likes to motivate young girls to work in tech. She regularly appears in magazines such as Viva, LINDA meiden and Vogue.
Read more about Gina here in the young talent special of FD 2020
Hacked by ChatGPT?


Not only students, but also cybercriminals found out that ChatGPT could ease their work! For example, with ChatGPT you can scan an entire network for vulnerabilities and you can write malicious code that is not recognized by your anti-virus software. How can ChatGPT help cyber criminals in a cyber attack? And how could we protect ourselves against cybercriminals? Gina takes you into the dark world of ChatGPT and cyber.
Gina's mission is to make the online world safer by raising awareness for cybercrime and by teaching about protecting yourself from digital thieves. With her contagious enthusiasm she is regularly asked to speak about digital security and resilience, cybercrime, cybersecurity, digital forensic research and Artificial Intelligence.
Hope in the uphill battle against cybercrime, Gina at TEDxAmsterdamWomen


In addition to lectures, Gina Doekhie gives workshops on cybersecurity
For example:
Workshop Cyber Exercise
Hacked?! Do you know what to do if you are hacked? Nowadays it is no longer a question of if you will be hacked, but when. It is then important to know what to do so that the damage can be limited. Gina Doekhie will do an exercise in a live simulation of a hack. In each scenario you are challenged and decisions have to be made. Do you have a crisis communication plan or an incident response plan or a back-up strategy? At the end of the cyber exercise you will have enough tools to get started yourself and make your company more cyber safe!
Workshop phishing
Every day, 150 million phishing emails are sent, and about 800,000 links in those emails are clicked. Everyone has received a phishing email or text message at some point and hopefully you ignored it. Cyber criminals are getting smarter and it is no longer so easy to distinguish a fake email from a real one. Many cyberattacks start with a phishing email that an employee accidentally clicks on. It is therefore important to make your employees aware of the dangers and to ensure that they are trained in recognizing phishing e-mails. In this interactive workshop, Gina Doekhie will explain the phenomenon of phishing and learn how to recognize it!
Workshop Passwords
What is a strong password? Why is it important to use a strong password? Not just a strong password but different passwords for each account! In this workshop, Gina Doekhie shows why passwords are so important for your cybersecurity. The participants will see if they can prevent a data breach themselves and even try to crack their own password. What does it mean if your data occurs in a data breach? How do cyber criminals actually trade your data? Gina Doekhie also gives important tips to secure your accounts.
Workshop Internet traces
When you use the internet, you leave a lot of traces. Also for cybercriminals! They can use this information in a cyber attack. What information do you leave behind when you visit a website? How easy is it to find out your address details? Unfortunately, people are posting more and more information about themselves online. Cybercriminals can use these in social engineering or in a phishing attack, for example. Gina Doekhie will look for this information together with you and will also show you how to use the internet safely.
Workshop Digital Forensic Investigation
Do you want to learn how to secure data, recover deleted files or analyze log files? In this workshop you will get started with doing digital forensic investigation yourself. Gina will give examples of cases she has investigated herself. Various forensic tools are discussed and Gina shows how you can interpret the evidence found.
Podcast Cyber ​​Heroes, with Jesse Klaver:

Other television appearances by Gina Doekhie:
– Gina Doekhie explains how bankhelpdeskfraud works at Omroep West
– NPO3 Mag ik je tieten zien, program about hacking at NPO3
– Scam via the Internet, FunX sound clip
– Stand van Nederland WNL