Jeanneke Scholtens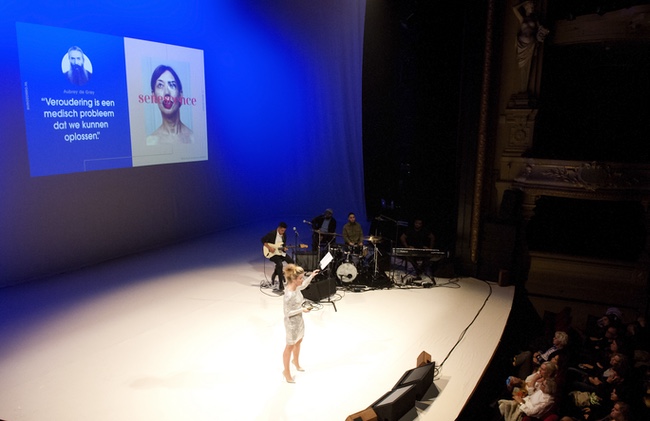 Jeanneke Scholtens is a futures researcher and the founder of Buro Zorro. Her research focuses on themes that are at the intersection of people, technology, science and philosophy. She investigates the changing society and how product-, market-, and consumer trends affect you, your organization and your customers. With her trend agency Buro Zorro, she investigates trends and helps organizations all over the world to develop their future-proof strategy.
Scholtens has a preference for taboos and the human lusts. She wrote the controversial book Holy Fuck, about the future of sex and researched the future of the church and death. You saw and heard her in Zembla, EenVandaag, Zomer met Art, BNR, Spijkers met koppen, LINDA, among others.
In 2022 her book Roes was published:
Roes
Jeanneke Scholtens, futures researcher with a considerable sensitivity to addictions, decided to use herself as a study object in her research into pleasure. What follows is Roes: an honest, funny and confrontational quest. Where does that craving for wine come from? Why is the intoxication so attractive? How does pleasure work and why are we all looking for it? And where should she get her shot of pleasure now, now that she stopped drinking?
Jeanneke spreads her knowledge through books, lectures and workshops. Her research into consumer trends for the next 5 years, Pleasure Please, even produced a game. In addition to her lectures, you can also ask Jeanneke as a moderator.
Some presentations that Jeanneke gave earlier:
The longer living human
Imagine if we could live to be 130 years old…
Everything is possible, from IVF to 3D printed organs, from nanotechnology to the latest medicines. We extend and repair, design and create. Life is to be made and we like to make our lives as long, happy and healthy as possible. Or not? What is the coronavirus doing to our life expectancy? And what do senolytics, anti-aging drugs, mean? Can we get even older at all and do we want to get even older? And: what would this mean for you, me, your company and society?
What does an increasingly longer life span mean for how we organize our lives, for how we live, take out insurance and view our relationships? How can you respond as an organization? Futures researcher Jeanneke Scholtens takes you into the world of life extension and system change.

Pleasure Please
Investigating Consumer Needs for the Next 5 Years
The pursuit of pleasure, euphoria, happiness, and meaning drives us to seek out all sorts of experiences – from what we consume with our mouths to what we absorb with our minds. Our desires are what propel us forward, motivating us to seek out what we want to feel, taste, hear, and possess. But what happens when we have to eliminate those stimulants from our lives in the interest of a healthy lifestyle? How do we continue to find pleasure?
Our quest for pleasure leads us to immediate gratification, intense happiness, a desire for danger, and a search for deeper meaning. These are the four pillars of our pursuit: Pleasure, Happiness, Danger, and Purpose. By looking ahead and investigating the consumer needs of the next 5 years, we can gain insight into what people will long for. And if we know what people will want, we hold the key to the future.
Holy fuck
Exploring the future of sex
Jeanneke Scholtens and her fellow trend watcher Mabel Nummerdor co-authored the book "Holy Fuck", which takes a deep dive into the world of sex in the 21st century. With a lot happening in this field, including Japanese youth opting for celibacy and the rise of VR sex that is becoming increasingly realistic, the authors explore the future of sex in seven steps. This expedition is about your future, so let yourself be well-informed.
A keynote or lecture from "Holy Fuck" can have an impact on various fields, including marketing and advertising, health and well-being, society and politics, media and entertainment, food and fashion, and much more. Are you curious about what the future of sex means for your brand, company, or industry?
"Holy Fuck" has been awarded the Best Non-Fiction Book of 2019 and won the Alice Indie award.