Katja Berkhout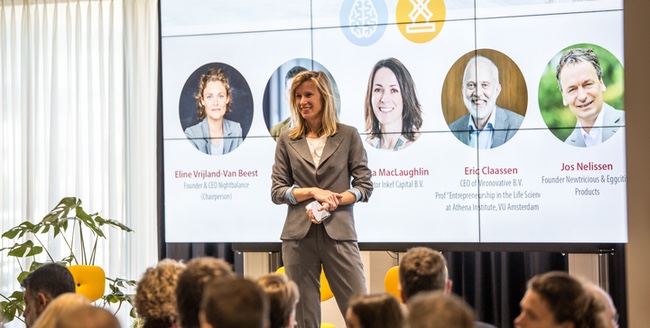 With over 15 years' experience working as an international business advisor Katja has developed a broad look on innovation trends and the workings of startup ecosystems. She is passionate about creating meaningful connections between innovators across industries and liaising between public- with private organizations for positive impact.
Katja is the former Director International with TechLeap.NL (StartupDelta), the accelerator for the Dutch startup ecosystem. For the past 5 years Katja has worked with among others with special envoys Neelie Kroes and Constantijn van Oranje on building a global brand for the Netherlands as a leading startup ecosystem in Europe. Through a targeted international outreach program, she's helped built connections for Dutch innovators at the world's most impactful tech events and in leading innovation hubs like San Francisco, Singapore, Boston, Berlin and London.
Previously Katja established the first non-US Venture Café in at the Cambridge Innovation Center in Rotterdam. Between 2010 and 2014 she worked from Boston, MA advising executives at American and Canadian multinationals and scale-up companies on their European expansion strategy on behalf of the Netherlands Foreign Investment Agency. As a private sector liaison, she's worked with the World Bank Group on innovation scouting and as a public procurement advisor. Katja is a contemporary historian, with a specialization in post-conflict democracy building. She started her career as a business and government consultant in Eastern-Europe and Russia.
Katja is active as advisory committee member for SXSW pitch and the Dutch Delegation for CES Las Vegas 2019 and 2020. In May 2019 she was elected one of Inspiring Fifty women in tech in the Netherlands.
In her spare time Katja likes to go kitesurfing, SUP & snowboarding and for a run during her travels, on local beaches or in a game of field hockey.
Katja speaks about startups, startup ecosystems & innovation. She's also a frequent moderator and chair at conferences. Some recent examples include: TNW X global investor stage (moderator), Rotterdam Capital Days (host and moderator), Money Flows Amsterdam (host and moderator), BMW press event Rotterdam (moderator), Facebook Grow (innovation expert), HortiHeroes Festival Rotterdam (host and moderator) and Keygene innovation festival Wageningen (host and moderator), Polaris Odyssey, Hall of Knights The Hague (host and moderator), Startup Genome Amsterdam (expert).