Marjan van Aubel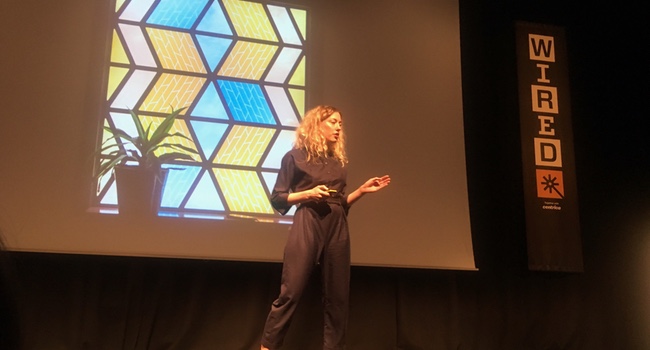 Award-winning inventor and solar designer Marjan van Aubel (1985) focuses on sustainability, design and technology. She is ambassador of the Dutch Design Week 2022 and designed the roof of the Dutch pavilion at the World Expo 2020.
Another award-winning design is Sunne, a self-powered solar light that captures, stores and produces light indoors. By day, it harvests energy from the sun while it hangs by your window; by night, it brings sunlight into your home. Her book Solar futures was published in 2022, it gives a look at the past, present and future of solar energy.
Marjan wants to democratize solar power by making it more accessible and attractive to everyone; through her designs, solar energy is integrated into everyday life. Marjan strives to redefine our current relationship with solar energy. She gives objects a dual function by, for example, working with extendable materials or by integrating solar panels that mimic the process of photosynthesis in plants (power plant ); for example, a table (the Current Table) is not only a table but also generates electricity.
In collaboration with scientists, engineers and institutions such as Swarovski and ECN, the Dutch Energy Centre, van Aubel works to promote extreme energy efficiency through intelligent design.
Marjan talks about innovation and the role of design in the implementation of sustainable technologies.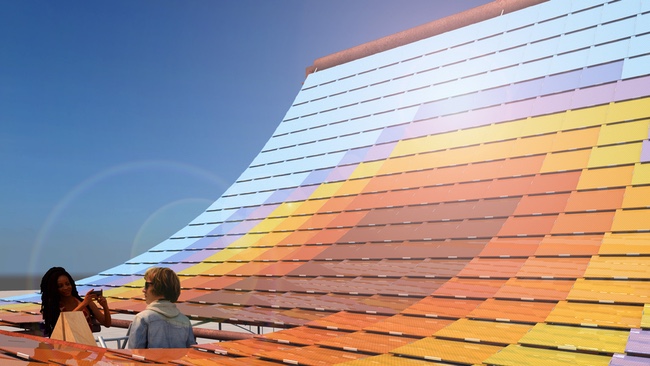 Graduating from the Royal College of Art (Design Products MA) in 2012 and the Rietveld Academy DesignLAB (BA) in 2009, van Aubel has since exhibited at world-class institutions such as the V&A (London), the Design Museum (London), Boijmans van Beuningen Museum (Rotterdam), and the Stedelijk Museum (Amsterdam). Her work is also part of the permanent collection at the MoMA in New York, the Vitra Design Museum, Boijmans van Beuningen Museum, The Montreal Museum of Art, and the National Gallery of Victoria in Australia.
In 2017, Swarovski named Marjan the Designer of the Future, and in 2016 she received WIRED's Innovation Award, the Wallpaper Design Award and was chosen to be the Radicale Vernieuwer (Radical Pioneer) Netherlands by Neelie Kroes. She received the London Design festival Emerging Talent medal in 2015 and in 2012 she won the First Prize Dutch Material Award.
Marjan van Aubel did a great talk at see-Conference #14. It was both personal, showing her path and experiments, but also visionary, as she addressed global issues of climate change and how design and technology can drive positive change. She is very sympathetic and open-minded, yet determined, a trait that we look for in our speakers.
—Peter Post, see-Conference (Wiesbaden)
Marjan van Aubel – TEDx Amsterdam 2018

Marjan van Aubel – What design can do

Het nieuwe instituut: Portrait of Solar Designer Marjan van Aubel

Members of Het Nieuwe Instituut: Portrait of Solar Designer Marjan van Aubel from Het Nieuwe Instituut on Vimeo.