Marjan van Aubel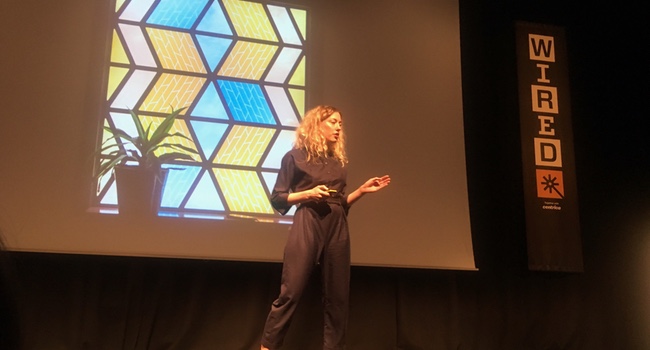 Prijswinnende uitvinder en solar designer Marjan van Aubel (1985) focust met haar innovatieve concepten op duurzaamheid, design en technologie. Ze is ambassadeur van de Dutch Design Week 2022 en ontwierp het dak van het Nederlandse paviljoen op de World Expo 2020.
Een ander bekroond ontwerp is Sunne, een lamp op zonne-energie die binnenshuis licht opvangt, opslaat en produceert. Overdag oogst zij energie van de zon terwijl zij bij je raam hangt; 's nachts brengt zij zonlicht in huis. In 2022 kwam haar boek Solar futures uit, wat een blik geeft op het verleden, het heden en de toekomst van zonne-energie.
Marjan wil solar power democratiseren door het toegankelijker en aantrekkelijker te maken voor iedereen; door middel van haar ontwerpen wordt zonne-energie in het dagelijks leven geïntegreerd. Ze streeft ernaar om onze huidige relatie met zonne-energie te herdefiniëren. Ze geeft objecten een dubbele functie door bijvoorbeeld te werken met uittrekbare materialen of door zonnepanelen te integreren die het proces van fotosynthese in planten nabootsen (power plant); zo is een tafel (de Current Table) niet alleen een tafel maar genereert deze ook elektriciteit.
In samenwerking met verschillende wetenschappers, technici en instellingen als Swarovski en ECN (Energieonderzoek Centrum Nederland) wil Marjan laten zien dat extreme energie-efficiëntie te behalen is doormiddel van intelligent design.
Marjan spreekt over innovatie en de rol van design in de implementatie van duurzame technologie. Zie ook: Positieve energie.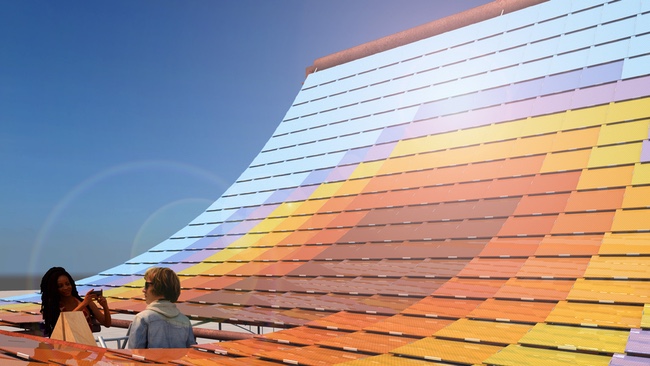 In 2009 behaalde Marjan haar bachelor aan de Rietveld Academie DesignLAB en hier voegde ze in 2012 een master van de Royal College of Art in Londen aan toe. Sindsdien zijn haar designs tentoongesteld bij instellingen als V&A (Londen), The Design Museum (Londen), Boijmans van Beuningen Museum (Rotterdam) en het Stedelijk Museum (Amsterdam). Daarnaast is haar werk een vast onderdeel van de collectie van MoMA in New York, het Vitra Design Museum, Boijmans van Beuningen Museum, het Montreal Museum of Art en de National Gallery of Victoria in Australië.
In 2017 benoemde Swarovski Marjan de Designer of the Future, in 2016 ontving ze WIRED's Innovation Award, de Wallpaper Design Award en werd ze door Neelie Kroes gekozen als de Radicale Vernieuwer. Ze ontving de London Design Festival Emerging Talent medaille in 2015 en in 2012 won ze de eerste prijs Dutch Material Award.
Marjan van Aubel did a great talk at see-Conference #14. It was both personal, showing her path and experiments, but also visionary, as she addressed global issues of climate change and how design and technology can drive positive change. She is very sympathetic and open-minded, yet determined, a trait that we look for in our speakers.
—Peter Post, see-Conference (Wiesbaden)
Marjan van Aubel – TEDx Amsterdam 2018

Marjan van Aubel – What Design Can Do

Het nieuwe instituut: Portrait of Solar Designer Marjan van Aubel

Members of Het Nieuwe Instituut: Portrait of Solar Designer Marjan van Aubel from Het Nieuwe Instituut on Vimeo.