Salmaan Sana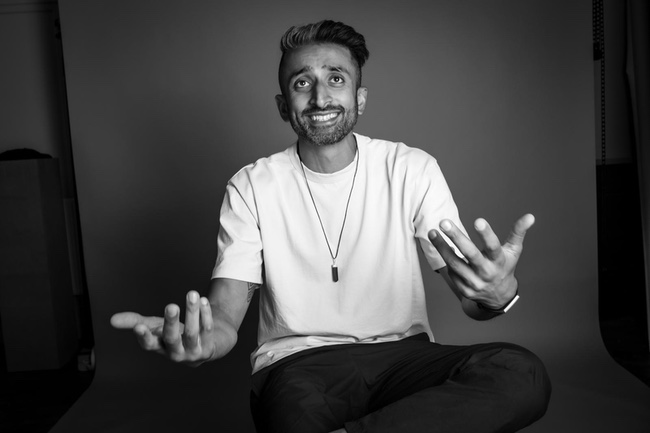 Salmaan Sana is a multifaceted speaker and moderator. Currently, he helps companies to build a more profound sense of belonging, and to connect and build more cohesion. In addition, Salmaan is a member of the board of TEDxAmsterdam, an inspirational annual event with its famous motto: Ideas worth Spreading. Building this platform for ideas for positive change, brings together his capacity as a leader, a moderator and an activist.
"If you want to go fast, go alone. If you want to go far, go together" – African Proverb.
In pretty much all his activities he gets others to tune into how they feel, develop a connection with those around them, and find a way to make an impact together.
Previously, Salmaan worked as a senior consultant for Better Future, working with multinational companies and taking them on leadership and impact journeys. The programs he developed for them were always tailored to the organisation he worked with. He also started a series of foundations and companies, including Compassion for Care, Humans of Health, Zero Generations, The Leadership Summer schools and Nameshapers. With these initiatives, he organised a series of Leadership Summer schools.
He has also worked as the creative engagement and online team director for AMEE – the international association for Medical Education and has been the Chief Compassionate Officer at the Medical Center in Leeuwarden. His medical background has given him the experience of caring for patients at their bedside and walking the hospital halls working all kinds of jobs. He was on the first teams that started TEDxAmterdam, TEDxMaastricht and TEDxBrussels.
With his enthusiasm for technology, he quickly adapts to new standards and advocates for online tools to connect, as an addition to physical contact.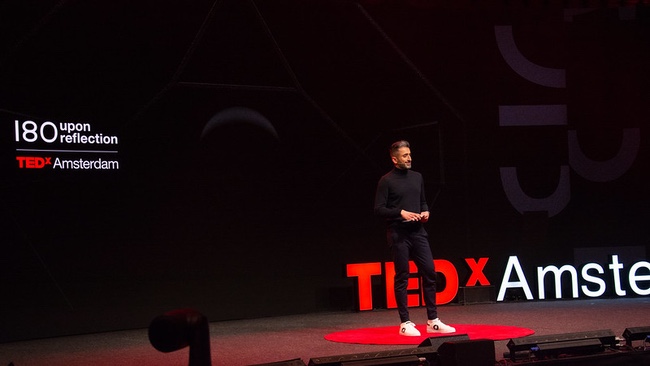 Some of his recent presentations:

Reaching your goal
Salmaan's unique talent is getting the top to bottom levels to harness the power of the frustrations. This harnessing can be on a personal, team, or organisation-wide – he believes that it is by acknowledging, accepting and even 'feeling' what is happening on a deeper level that we can move forward to the next phase.
"The law of conservation of energy states that energy can neither be created nor destroyed – only converted from one form of energy to another." – Émilie du Châtelet
The magic lies in converting negative energy into a positive, constructive force. Then, by using proven methodologies, he gets his audience to connect and gain the insights they need to move past the frustration and get into action.
Salmaan showcases how the small and significant movements in history have all spurred from this unappreciated emotion and how to use it to create ripple effects within your personal and professional life.

Culture Change
As the common saying goes, "Culture Eats Strategy for Breakfast". This quote from Peter Drukker brings an absolute truth: companies can have the most well thought-out strategies and plans, yet without the ability to cascade this throughout the organisation on all levels, nothing will happen.
Having worked with a series of small and larger companies, Salmaan has worked closely on leadership development and what it takes to change the behaviour from within. He will say that you can't change culture, but you can most certainly influence behaviour, which creates the culture. To learn how to go about the written and unwritten rules and guide what to keep in mind when creating an open and inclusive environment.

Diversity, Equity and Inclusion
Salmaan has been working with teams and companies in developing strategies and implementing interventions that increase diversity, create awareness for equity and create a culture of more inclusion.
"Diversity is being invited to the party; inclusion is being asked to dance" – Verna Myers
There are specific steps to keep in mind when it comes to becoming more aware of the disparity of privileges and how each has a different starting point. Salmaan uses his experience working within diverse teams, including those he has led himself, to bring these themes to life. When speaking or giving sessions on this topic, he encourages his audience to think further and even get uncomfortable. A question he will often ask is, "when have you been or felt excluded?"
Salmaan comes from migrant parents, and as a POC (person of colour), he has first-hand experience of what it means to integrate into a society different from that from which he originates. He was born in the UK, raised in the Netherlands, went to an international school and has been globally active since his student days.
After the Black Lives Matter protest in 2020 at Dam Square in the city centre of Amsterdam, there has been a surge of attention towards this topic. However, often it is still hard to grasp "what do we do about it and how?".

Moderator/Host
Salmaan loves to host events. As a trainer and facilitator, he has hosted small events, larger events like TEDx Amsterdam and entire summer schools.
What makes Salmaan unique in this is the fact that he cares. He will dive into the topic, the speakers and the theme. By making it personal to him, and by understanding why it is important, he lets you remember and 'feel' that this is the place we need to be.
Salmaan's moderation comes with a lot of interaction, questions that activate, and where space allows it, finding ways to get audiences to connect. He uses meaningful questions that go a level deeper, supporting the reason for gathering the audience and leaving them with a positive and uplifting feeling by the end of it.

Salmaan Sana, host at TEDx Amsterdam, 2021:


Speaking and connecting with your audience
Speaking is more than just standing on a stage and reciting text that you've learned. It is about showing up, being yourself, shedding your ego and standing for something bigger than yourself. You can probably remember the speakers who connected with you and those who felt very far away. The feeling that a speaker has made an impression is often what we want to learn to convey when we speak ourselves.
"I've learned that people will forget what you said, people will forget what you did, but people will never forget how you made them feel." – Maya Angelou
Salmaan is a seasoned stage presence, he has been speaking and delivering talks dating back to his student days. With his acquired skills he has given thousands of hours of training, he loves to share what ways you can connect with your audience in the most authentic way. In 2011 he gave his first TED talk (TEDxMaastricht), followed by years of stage performances, discussions and moderating.
Being a board member for TEDxAmsterdam has given him the front seat and involvement of what it takes to be a good speaker and what it takes to curate a high-level event of impactful talks.
So what does it take for you to be a good speaker and connect with your audience? Salmaan takes you through specific steps and methodologies that you can tangibly integrate into your next prepared speech.
Why Planet Act > TEDxAmsterdam 2019

TED talk 2011 "Compassion for Care"

Diversity Panel hosted by Salmaan Sana, IR Global Amsterdam 2019