Tendayi Viki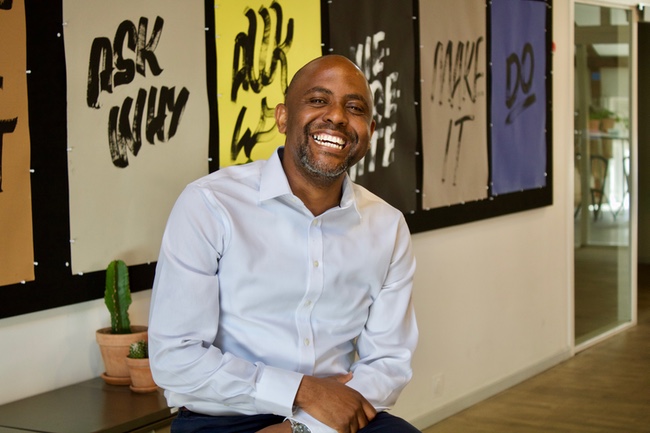 Tendayi Viki is an author and innovation consultant who is helping to change the way established companies create value through innovation.
He holds a PhD in Psychology and an MBA. As Associate Partner at Strategyzer, he helps large organizations innovate for the future while managing their core business. He has given keynotes, run workshops and worked as a consultant for several large organizations including Rabobank, American Express, Standard Bank, Unilever, Airbus, Pearson, Lufthansa-Airplus, The British Museum, Copenhagen Fintech and The Royal Academy of Engineers.
Tendayi co-designed Pearson's Product Lifecycle, an innovation framework that won the Best Innovation Program 2015 at the Corporate Entrepreneur Awards in New York. He has been shortlisted for the Thinkers50 Innovation Award and was named to the Thinkers50 2018 Radar List for emerging management thinkers to watch.
Tendayi has written three books based on his research and consulting experience, Pirates In The Navy, The Corporate Startup and The Lean Product Lifecycle. The Corporate Startup was awarded the 2018 CMI Management Book of the Year In Innovation and Entrepreneurship. He is also a regular contributing writer for Forbes .
Tendayi spent over 12 years in academia during which time he taught at the University of Kent where he is now Honorary Senior Lecturer. He has also been a Research Fellow at Stanford University and Research Assistant at Harvard University.
Topics:
It's Better To Be A Pirate In The Navy
As innovation has become increasingly important to companies, leaders have started paying more attention to what creates value. However, trying to innovate within large corporations can be a daunting task. In this keynote, Tendayi discusses how innovators can lead innovation from inception to execution; manage breakthrough innovation; organize for new business model innovation; and create value through authenticity. The premise being, rather than simply operating as a pirate, it is better to be a pirate in the navy. This approach requires humility, a relentless focus on using innovation to create value, and the discipline to build repeatable innovation processes.

The Future of Business is Now
COVID-19 has thrown us into a sea of uncertainty. Being future ready can't wait. Large companies are faced with a paradox – they have to innovate for the future while running their core business in an uncertain market. In this keynote, Tendayi explains how to overcome such hurdles as internal opposition, external competitors and management of the core business to create an environment for repeatable innovation.

Innovation is for Everyone
In this keynote, Tendayi discusses how companies can make sure that they have a democratic process for managing innovation, and how developing an innovation ecosystem with metered funding and the right questions at the right time helps open the innovation process to more people within the company.

Beyond Experiments: Aligning Innovation with Corporate Strategy
In this keynote, Tendayi talks about the importance of developing an innovation strategy to avoid random innovation projects in companies. Developing an innovation thesis to guide strategic decision-making. How to align innovation projects with corporate strategy. How strategy can help with transitioning successful innovation projects into the core business.

Videos:
Beyond Experiments: Aligning Innovation with Corporate Strategy – Lean Startup Week – San Francisco

Pirates In The Navy: How Innovators Can Thrive In Corporate Environments – Innov8rs Conference – Helsinki

Innovation Thinking Ahead – Campus Seminar – Zurich