Thomas Boeschoten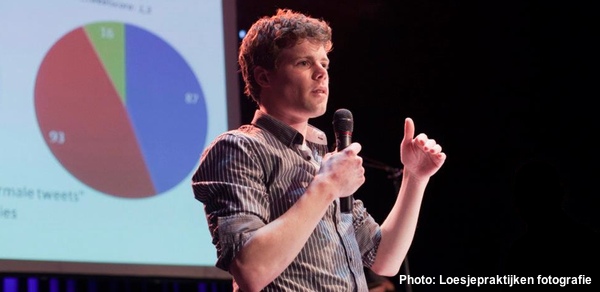 Thomas Boeschoten is a tech journalist and an expert on new media and data analysis. In 2013, he was asked to join the Dutch committee "Project X". The commission was set up to investigate the riots in a small Dutch village called Haren in September 2012 whereby an innocent birthday announcement of a 16 year old girl on Facebook turned into a huge party – like Project X.
At the moment, Thomas is News Analytics Team Lead at DPG Media. He leads a team that offers insights in achievements of articles written by editorial offices of the newspapers and magazines of DPG Media. They offer insights in what kind of stories people want to read, how difficult subjects can be pushed and what lessons there are to learn from the way people read articles.
In 2012, he founded the Utrecht Data School, a researchproject/course at the University of Utrecht. In this project, he and his students research new media by using enormous data sets (big data). As part of his studies, he analysed tweets of the members of the Dutch government by using data visualisations. He also works at the Dutch newspaper AD, using data to help the digital growth of the newspaper.He currently works for the Dutch newspaper Algemeen Dagblad, where he tries to turn the newspaper into a digitally better and bigger newspaper, by using data.
Thomas has been fascinated with social networks on internet sinds he was young. When he was seventeen, he created the website Managers United, a community that still has 300.000 visitors monthly. He is also the founder of the soccer-website Catenaccio.nl, a soccer-magazine that publishes in Blendle and specialises in background-stories, tactical analysations and statistics in soccer.
More information about Thomas on his Dutch profile.