Anne Bruinvels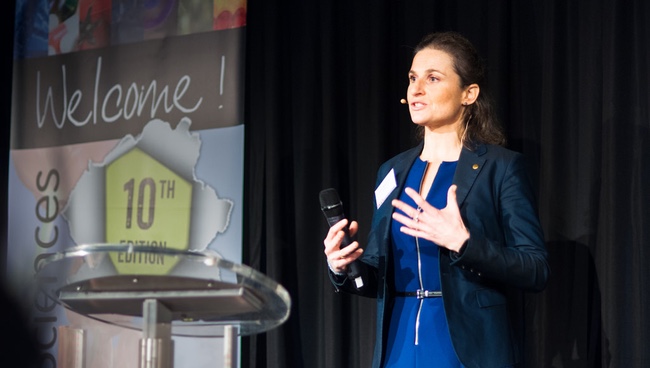 Dr. Anne Bruinvels is een "personalized medicine" en eHealth expert, met een brede ervaring als spreker en dagvoorzitter van nationale en internationale congressen en evenementen. Ze spreekt niet alleen over haar eigen activiteiten in de gebieden van 'patient engagement' en biomedisch onderzoek, maar staat ook bekend om haar boeiende lezingen over de toekomst van de gezondheidszorg en 'precision medicine'.
Ze is de oprichter van Px HealthCare, een eHealth bedrijf, dat apps ontwikkelt om mensen met kanker medische ondersteuning te bieden en meer inzicht te geven in hun situatie.
Als 'data-analytics' bedrijf, heeft Px een digital-health platform ontwikkeld dat 'patient-engagement' tools combineert met geavanceerde data-analyse. Px heeft als doel om de uitkomsten van de behandeling van kanker te verbeteren door middel van 'real-time patient health data'. Het bekendste product is OWise, een app die vrouwen met borstkanker ondersteund met informatie.
Voordat ze Px HealthCare oprichtte, was Anne Executive Director van de European Personalized Medicine Association (EPEMED), een non-profit organisatie met als doel om doelgerichte (personalized) therapieën beter toegankelijk te maken in Europa.
Eerder richtte Anne de biotechnologie onderneming Curidium op, een 'personalized medicine' bedrijf dat diagnostische testen en doelgerichte therapieën ontwikkelde voor mensen met psychiatrische aandoeningen. Ze zette Curidium op in 2001 en voltooide verschillende 'angel' financieringsronden alvorens het bedrijf in 2006 naar de London Stock Exchange te brengen (AIM). Anne was de CEO van Curidium tot eind 2007 en in 2009 werd het overgekocht door een Brits diagnostisch bedrijf.
Daarvoor werkte Anne als Scientific Director, Business Development bij een biotechnologie bedrijf uit Cambridge (Pharmagene) en droeg bij aan de groei van deze private onderneming tot een beursgenoteerd fonds. Ook leidde ze verschillende neurowetenschappelijke onderzoeksgroepen bij bedrijven als SmithKline Beecham (nu GSK) en Wyeth (Pfizer).
Ze ontving een PhD scholarship van Sandoz (Novartis) en is gepromoveerd aan de medische faculteit van de Universiteit van Utrecht. In 2003, ontving Anne de London Biotechnology Network 'Young Entrepreneur of the Year Award'.
Anne Bruinvels interviewed Neelie Kroes en Edith Schippers op Our Future Health 2016:

In de praktijk: Owise