Marco Derksen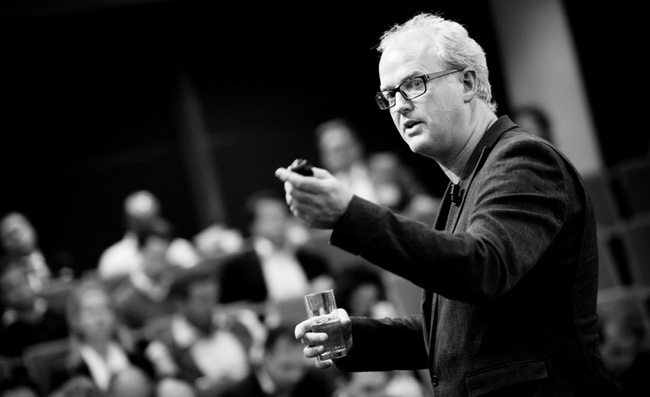 Marco Derksen (1964) is eigenaar van Marketingfacts en oprichter/partner van strategisch adviesbureau Upstream. Verder is hij Hoofddocent Digital Business Transformation bij de Hogeschool van Arnhem en Nijmegen en Kerndocent Leiderschap bij Digitale Transformatie bij de AOG School of Management in Groningen.
Marco heeft ruim 25 jaar ervaring op het gebied van technologie, innovatie en media en hij adviseert en begeleidt organisaties in de verandering naar de nieuwe digitale wereld.
Na zijn studie scheikunde aan de Hogeschool Arnhem-Nijmegen (HAN) en Katholieke Universiteit Nijmegen (KUN) is Marco in 1991 gestart als wetenschappelijk medewerker aan de KUN en later bij Organon (toen nog onderdeel van Akzo Nobel). Eind jaren negentig heeft hij de overstap gemaakt naar marketing-communicatie. Na zes jaar te hebben gewerkt voor bureaus als VODW en Share of Mind, is hij in 2005 gestart als zelfstandig ondernemer.
Op dat moment heeft Marco de basis gelegd voor het huidige Upstream, een strategisch adviesbureau dat op basis van actuele marktkennis zich richt op het inspireren van organisaties, het geven van strategisch advies en het ondersteunen bij de implementatie van social business. De afgelopen jaren heeft hij gewerkt voor zowel profit als non-profit organisaties als Sanoma, ING, Rabobank, UMC St Radboud, CITO, Hogeschool Arnhem-Nijmegen, Wageningen University, Kennisnet, Deli XL, Telegraaf Media Groep en TUI Nederland.
Marco is naast initiatiefnemer van en drijvende kracht achter Marketingfacts (één van de meest toonaangevende marketingblogs van Nederland) ook (mede-)oprichter van platformen als Foodlog, FoodNext, TravelNext, SportNext en Arnhem Direct. Verder is hij vier jaar voorzitter geweest van het Interactive Advertising Bureau Nederland (IAB), de brancheorganisatie voor de online advertising en interactieve marketing industrie. Tegenwoordig is Marco lid van Raad van Advies Post-HBO Digitale Communicatie Hogeschool Arnhem Nijmegen (HAN), lid van bestuur poppodium Luxor Live en lid Raad van Toezicht VPRO.
Marco Derksen is in 2008 onderscheiden met de Coq d'Honneur, een prijs die jaarlijks wordt uitgereikt door de communicatiebranche aan personen die zich zeer verdienstelijk hebben gemaakt voor het marketingcommunicatievak.
Hij spreekt over marketing strategie, communicatie strategie, digitale strategie, de netwerksamenleving, digitaal leiderschap en social business.
Marco Derksen in Top Names: