Axel Arnbak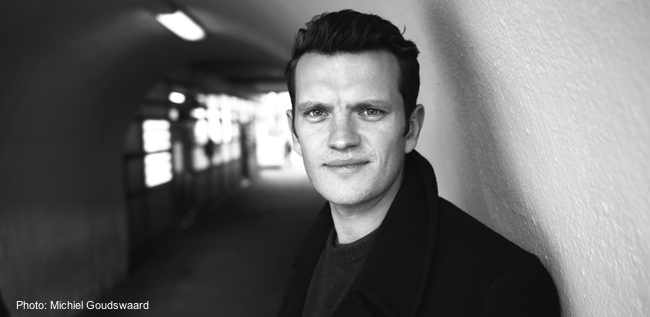 Axel Arnbak is partner bij De Brauw, Blackstone & Westbroek en onderzoeker aan het Instituut voor Informatierecht van de Universiteit van Amsterdam en bezocht in 2013/14 als Fellow het Berkman Center aan Harvard University en CITP aan Princeton University.
Hij publiceert over cybersecurity, privacy, internet of things, kunstmatige intelligentie en over de NSA en Europese inlichtingendiensten. Zijn publicaties leidden tot parlementaire debatten op Europees en Nederlands niveau en worden vaak aangehaald in (inter)nationale media zoals de Financial Times, de Wall Street Journal en CBS News. Hij blogt op Freedom to Tinker, zijn eigen website en microblogt op Twitter. Verder heeft hij een column bij het FD.
– Lees Axel's laatste column in het FD.
Axel spreekt regelmatig in Nederland, Europa en de Verenigde Staten op hackerscongressen tech events in parlementen en op universiteiten over technologie, recht, maatschappij en hun continu veranderende verhouding. Hij zit dicht op de nieuwste ontwikkelingen binnen (inter)nationale internetregulering en kent de impact voor overheden en bedrijven. Is een robuuste en betrouwbare informatiesamenleving nog wel in ons bereik, als over vijf jaar de hele wereld toegang heeft tot snel internet? Hoe moeten we omgaan met cyberoorlog, cybercrime, hacktivisme en de constante druk op privacy? Gaan de Snowden onthullingen alles veranderen, of juist niet? Kan ik mijn computers en communicatie nog wel beveiligen? Hoe dan?
In 2009 stond Axel aan de wieg van de doorstart van Bits of Freedom, een stichting die opkomt voor internetvrijheid en in de twee jaar dat hij er werkte boekte Bits of Freedom een aantal belangrijke successen. Zowel in Nederland als in Europa heeft hij gelobbied, campagnes gevoerd en wetgeving voorbereid over datalekken, netneutraliteit, deep packet inspection, het downloadverbod de bewaarplicht telecomgegevens – en nog veel meer.
Voor zijn scriptie over de bewaarplicht won hij de Internet Scriptieprijs 2009 en de UvA-scriptieprijs 2010. Axel haalde ook een cum laude graad in Competitive Strategy and Game Theory aan de London School of Economics en was in 2005-2006 voorzitter van de VeerStichting.
Axel te gast bij Humberto Tan, RTL Late Night, 2014:

Axel te gast bij Pauw en Witteman op 9 mei 2013

Presentatie: The Question Lawyers Don't Ask: Can Law Address Total Transnational Surveillance?, EPFL Lausanne Congress on Privacy & Surveillance, video: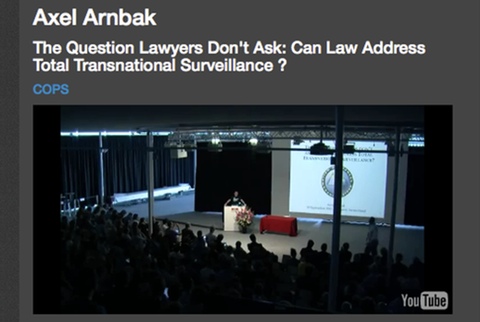 Verslag van het InternetCollege dat Axel Arnbak gaf voor de tweede kamer en de bijbehorende slides:
Interview met Arnbak, FD, 11-01-2014: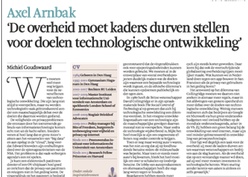 Blauwdruk CyberSecurity: