Boris Veldhuijzen van Zanten
Boris Veldhuijzen van Zanten (@Boris) is een succesvolle 'serial entrepreneur' en CEO en founder van The Next Web.com.
The Next Web is een wereldwijd technologie blog dat is opgericht in 2008 en is een van de weinige techblogs die niet alleen nieuws uit the VS verslaat, maar vanuit de hele wereld. Daarnaast organiseert The Next Web conferenties in Amsterdam, Sao Paulo en New York. De bijeenkomst in Amsterdam telt jaarlijks bijna 20.000 bezoekers. Ten derde onderhouden ze een netwerk van startups en technologie bedrijven waaraan ze onder andere werkplekken verhuren via The Next Web Spaces. En tenslotte adviseert The Next Web andere bedrijven op het gebied van digitalisering.
TNW Conference startte in 2006 toen Boris en zijn mede-oprichters een startup, Fleck.com, wilden lanceren en begrepen hadden dat het een goed idee was om dat op een conferentie te doen. Met sprekers als Kevin Kelly, Michael Arrington en Kevin Rose trok de eerste editie van The Next Web meer dan 300 bezoekers en besloten ze deze conferentie ieder jaar te organiseren.
In 2019 kocht de Financial Times een meerderheidsaandeel in The Next Web.
Boris maakte deel uit van de StartUp Europe Leaders Club, dat destijds werd opgericht door Neelie Kroes binnen de Europese commissie. Deze groep had als doel een beter startup klimaat in Europa te creëren, en de leden fungeerden als rolmodel voor Europese startups. Andere leden van deze groep waren onder andere Daniel Ek en Martin Lorentzon (Spotify), Kaj Hed (Rovio) en Niklas Zennström (Skype / Atomico)
In 2010 en 2011 werd Boris uitgeroepen tot Technology Trendwatcher of the year. Zie hier het oordeel van de jury.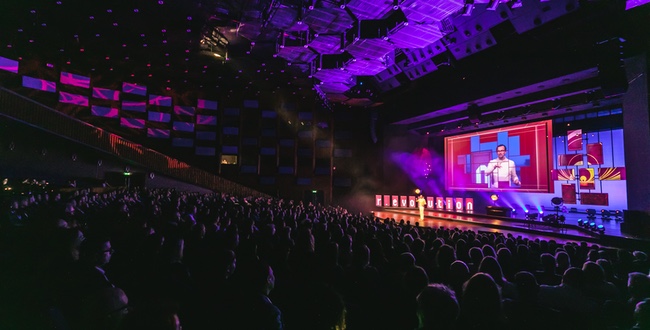 Boris studeerde cum laude af aan de kunstacademie in Enschede en aan de Rijksacademie in Amsterdam. Hij zette in 1997 zijn eerste internet bedrijf, V3 redirect services op, een redirect service die hij in 1999 verkocht aan Fortune City. In 2001 zette hij HubHop, een WIFI hotspot service op, dat hij in 2003 aan KPN verkocht. Als onderdeel van de deal heeft hij tijdelijk als manager bij KPN gewerkt, maar hij ging al snel weer ondernemen.
Met zijn achtergrond als kunstenaar, professioneel jongleur en entrepreneur heeft Boris een interessante combinatie van technologie, kennis en creativiteit in huis. Gebaseerd op zijn ervaring als succesvol serial entrepreneur en internet enthousiasteling in het algemeen, geeft Boris, met zijn anekdotes, een levendig en uniek perspectief op entrepreneurship, innovatie en de huidige technologie trends.
Testimonials voor Boris Veldhuijzen van Zanten
"Boris had een erg goed verhaal. Hij werd door het publiek na afloop meerdere malen genoemd als de beste en meest inspirerende spreker. Daarnaast was Boris ook erg prettig in de omgang. Dat was voor mij als organisator ook erg fijn."
Gijs van de Sande, programmamaker Studium Generale, TU Eindhoven
"Boris is something different! After participation and hosting various interactive marketing seminars around the world, I had the pleasure of being introduced and listening to an outmost interesting, inspiring and out-of-the-box speech presented by Mr. Boris Veldhuijzen van Zanten. The seminar topic was "Evolve and innovate! Creativity, key trends and future opportunity in interactive advertising" and Boris rounded up the seminar with this spectacular performance: "How entrepreneurship, serendipity, the image of God and interactivity all come together in one vision of the future of technology and humankind". I was amazed of the professionalism, enthusiasm and personal interaction shown by Boris . Simply brilliant and highly entertaining. Really fantastic performance and two thumbs up. A true breathtaking experience."
Børge Sandengen, Managing Director at INMA
'Boris is a man who believes in progress, innovation and a truly interactive world. The fact that he not only believes this but also works on making it a reality is very refreshing. Boris is not scared to 'walk his talk' and that makes him very convincing during his talk'
Jeroen Smit, publicist and moderator for Fusion 06

Interview met Prins Willem Alexander op The Next Web 2013

Boris bij de Accenture Innovation Awards, 2011