Daan Weddepohl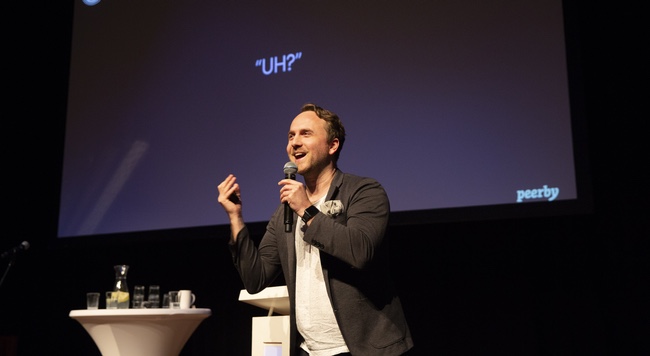 Wat hebben technologie, startups en duurzaamheid met elkaar te maken? Alles volgens Daan Weddepohl. Hij is de CEO en oprichter van Peerby, een platform waarop spullen gedeeld kunnen worden. Peerby heeft wereldwijd actieve leden die het platform gebruiken om spullen te lenen, te delen en te verhuren. Hiermee creëren de Peerby leden sociaal kapitaal, reduceren ze hun negatieve impact op het milieu en investeren ze in hun lokale gemeenschap. Daan probeert zo de basis te leggen voor een circulaire deeleconomie.
In 2019 is Daan zijn boek gepubliceerd: '99 redenen om te stoppen, en toch door te gaan', waarin hij uitlegt waar hij als ondernemer tegenaan is gelopen en hoe hij hiermee om is gegaan.
Voordat Daan Peerby startte werkte hij als CTO, project manager en software developer. Hij is eerder ook acteur geweest en speelde in verschillende TV series, in commercials en in het theater. Zijn acteeropleiding en podiumervaring maken hem een boeiende spreker en hij heeft dan ook op veel vooraanstaande events gesproken: onder andere op The Next Web, The Guardian Activate London Summit, OuiShare conference en Sitra's World Circular Economy Forum. Daarnaast is hij geregeld te gast bij BNR (Business News Radio).
Daan spreekt over algemene technologie trends, over de deeleconomie, de circulaire economie, duurzaam ondernemerschap, innovatie, startups, de lean-startup methode en hoe te werken als een agile team.
Daan is alumnus van de Founder Institute, TechStars London, en Rockstart accelerator. Hij won ook de Postcode Loterij Green Challenge, een internationale duurzaamheidsprijs, tijdens de Clinton Global Initiative in 2012.
In 2019 kwam Daan's boek uit, waarop hij ook zijn nieuwe lezing heeft gebaseerd:
99 Redenen om te stoppen en toch door te gaan – een reis langs de hoge toppen en diepe dalen van een start-upondernemer
"Je bent al begonnen, nu hoef je alleen nog maar door te gaan," is het devies van Daan Weddepohl, de oprichter van spullen- deelplatform Peerby. Hoe wordt een idee realiteit? Hoe creëer je iets vanuit niets? Gaat het erom hoe je begint? Of is het belangrijker dat en hoe je door gaat? Daan neemt je mee op een reis langs de hoge toppen en diepe dalen van de start-upondernemer. Over hoe een dramatische gebeurtenis een bron kan zijn van inspiratie en innovatie, dat echte verandering tijd, veel geld en passie vereist en dat de aanhouder uiteindelijk wint. Als er tenminste zoiets bestaat als winnen.
Daan Weddepohl bij WCEF2019: Acceleration of circular businesses: