Patrick van Hoof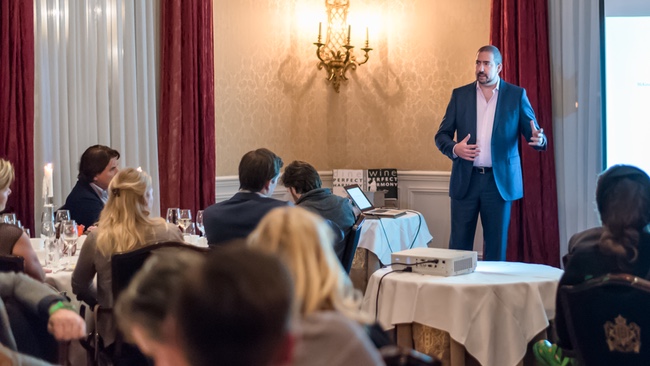 Patrick van Hoof is expert op het gebied van design thinking, digital disruption en transformatie. Momenteel is Patrick werkzaam als Global Director of Digital Innovation bij Arcadis, waar hij de leiding heeft over de investering in – en ontwikkeling van – nieuwe digitale initiatieven binnen en buiten het bedrijf op basis van Design Thinking en Lean Startup activiteiten, alsook over de ontwikkeling van de "Arcadis 2030" visie.
Patrick van Hoof in het FD: Kun je wel helemaal onafhankelijk innoveren?
Eerder was Patrick de Director of Innovation and Product Strategy bij Huge, een van de top digital design agencies in New York. Daarnaast was hij Adjunct Professor Entrepreneurship en Design Thinking bij de Parsons School of Design in New York.
Patrick heeft meer dan 10 jaar ervaring met innovatie en venture capital en helpt Fortune 500 bedrijven en start-ups om lange termijn strategiën te ontwerpen en te implementeren. Hij leidt multi-disciplinaire teams met als doel innovatieve producten en ervaringen te definiëren, ontwerpen en ontwikkelen. Hij heeft kennis van media, entertainment, tech en retail en is gepassioneerd over het integreren van de digitale met de fysieke wereld. Hier deed hij ook onderzoek naar bij het MIT Media lab en hij wordt gezien als een van de thought leaders op het gebied van VR/AR, Artificial Intelligence, en "programmable matter".
Patrick van Hoof bij NRC: Leven met een Robot

Verder heeft Patrick gewerkt bij IDEO, Walt Disney Studios en hij deed een MBA op het MIT (Boston). In die tijd publiceerde hij ook over de toekomst van human-computer interaction bij het MIT Media Lab. Nog eerder had hij zelf een startup. En daarvoor gaf hij advies over innovatie, beleid en investeringen aan senior beleidsmedewerkers bij de overheid en assisteerde hij bij de ontwikkeling van startup ecosystemen in Nederland, Estland, China en Tanzania.
Tijdens de financiële crisis werkte Patrick bij het Ministerie van Financiën waar hij verantwoordelijk was voor de grotere equity-investeringen en publiek-private partnerships. In 2005 hielp hij bij het opzetten van het eerste Nederlandse accelerator programma waarin jonge kunstenaars, designers, engineers en managers bijeen gebracht werden.
Naast een MBA van het MIT, heeft hij een BS en een MS in bedrijfseconomie van de VU in Amsterdam. Daarnaast heeft hij Industrial Design in Eindhoven gestudeerd en in het "Diplomatenklasje" van Buitenlandse Zaken gezeten (2009). In 2010 deed hij voor De Nederlandse Ambassade in Beijing onderzoek naar Venture Capital en entrepreneurship.
Patrick is faculty bij SingularityU NL, waar hij specialist is op het gebied van Design Thinking en de toekomst van digital en regelmatig lezingen en workshops geeft over deze onderwerpen.
Patrick bij TEDxStendenUniversity: The Future of Digital is a Personal Matter

Selectie van publicaties en lezingen:
Mijn leven met een robot, NRC, 23 december 2016

Design Denken is een bedrijfsstrategie geworden. FD Januari 2016

Beyond Form: Designing with Fluid Objects, Patrick van Hoof at SXSW Maart 2016

Facebook gaat voor werelddominantie, FD April 2016

A designers guide to the 15 billion artificial intelligence industry, FastCompany Juni 2016