Rudy de Waele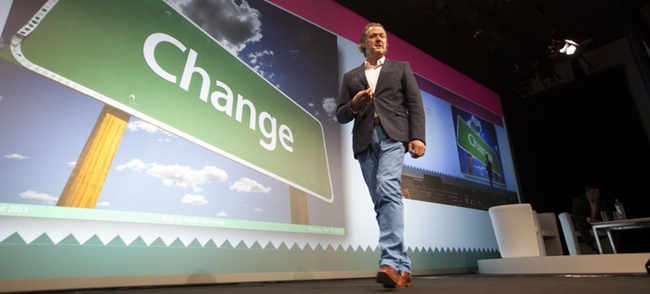 Rudy de Waele helpt managers en leiders op de hoogte te blijven van de ontwikkelingen die hun toekomstige business kunnen beïnvloeden. Dit doet hij door events te hosten, zelf te spreken op conferenties en door brainstormsessies op senior executive niveau te faciliteren.
Rudy heeft de afgelopen jaar CXO's gecoached door met hen te kijken naar startup innovaties die een risico kunnen vormen voor de core business van hun bedrijven. Vervolgens keek hij hoe ze kunnen zorgen de juiste veranderingen te adopteren op het moment dat zo'n nieuw idee van early adopters naar mass market conversion gaat. Hij heeft hiermee verschillende internationale merken geholpen, zoals BMW, IBM, Louis Vuitton, PayPal, Samsung en de Wereldbank.
Zijn meest recente boek, Shift 2020, geeft inzicht in de impact van opkomende technologie (zoals wearables, IOT, robotics en AI) op ons dagelijkse leven. Hij laat hierbij een aantal van de meest vooraanstaande experts van Google, Kickstarter, Microsoft, Spotify, and Telefonica hun vooruitzichten geven.
Rudy is afgestudeerd aan de Singularity University en heeft meer dan 100 industry events in meer dan 50 steden wereldwijd georganiseerd: van Mobile Mondays, tot AppCircus en Wearable Wednesdays.
Hij is internationaal bekend als thought leader in Mobile 2.0 en hij is een groot voorstander van open innovatie en de ontwikkeling van de app economy ecosystem. Hij spreekt over
Future of Mobile / Education / Health / Society / Work, Wearable Technology, The Internet of Things (IoT), Connected Lifestyle, Robotics / Artificial Intelligence, and Emerging Technology / Emerging Markets en geeft regelmatig lezingen bij de top technologie conferenties.